ABOUT US
American Century Life Insurance Company has a long history of serving families and helping them with their annuity and life insurance needs.
The company was founded in 1940 in Jacksonville, Texas as Cherokee Burial Association. In 1980, the Boren family combined this burial association with other similar associations and created the Boren Life Insurance Company.
The company became American Century Life Insurance Company of Texas in 2000.
Our name changed slightly in 2021 to American Century Life Insurance Company.
We are located in Allen, Texas and
are licensed in the states of
Alabama, Alaska, Arizona, Arkansas, Colorado, Connecticut, District of Columbia, Georgia, Idaho, Illinois, Indiana, Iowa, Kentucky, Louisiana, Maine, Maryland, Massachusetts, Michigan, Mississippi, Missouri, Montana, New Hampshire, New Mexico, North Dakota, Ohio, Pennsylvania, Rhode Island, South Carolina, Tennessee, Texas, Utah, Vermont, West Virginia, Washington, and Wyoming.
All products may not be available in all states. Please contact us to check the state-specific product availability.
Financial Strength Rating
American Century Life Insurance Company has earned a Financial Stability Rating® (FSR) of A, Exceptional from Demotech, Inc.
Demotech is a
Nationally Recognized Statistical Rating Organization ("NRSRO")
specializing in evaluating the financial stability of independent, regional and specialty insurers. Since 1985, Demotech has served the insurance industry by assigning accurate, reliable and proven Financial Stability Ratings® (FSRs) for Life & Health insurers, Property & Casualty insurers, and Title underwriters.
Demotech currently reviews and rates over 400 insurance companies in the United States including larger, international carriers as well as hundreds of independent regional and specialty insurers.
FSRs are a leading indicator of financial stability, providing an objective baseline of the future solvency of an insurer. They are accepted by several government-sponsored enterprises, including Fannie Mae, Freddie Mac, various programs of the United States Department of Housing and Urban Development (HUD), and mortgage lenders as well as premium finance companies.
Demotech is the only other company, except AM Best, that is
acceptable to insurance carriers of agent E&O policy and the insolvency exclusion in many policies include companies with certain Demotech rating.
For more information about Demotech and the most current FSRs of the carriers they review and rates, visit
www.demotech.com
or call (800) 354-7207.
What Does this Rating Mean?
Many consumers and agents are used to see AM Best rating, and a common question we get is "What level of AM Best rating is similar to your Demotech "A" rating?"
The quality of financial stability rating is measured by the percentage of companies that became impaired or insolvent a certain number of years after the rating was earned by a company.
The chart below compares the impairment percentage of the different levels of Demotech and AM Best rating in years after rating was earned by a company.
This chart shows that a
Demotech "A" rating is comparable to an AM Best "A" rating.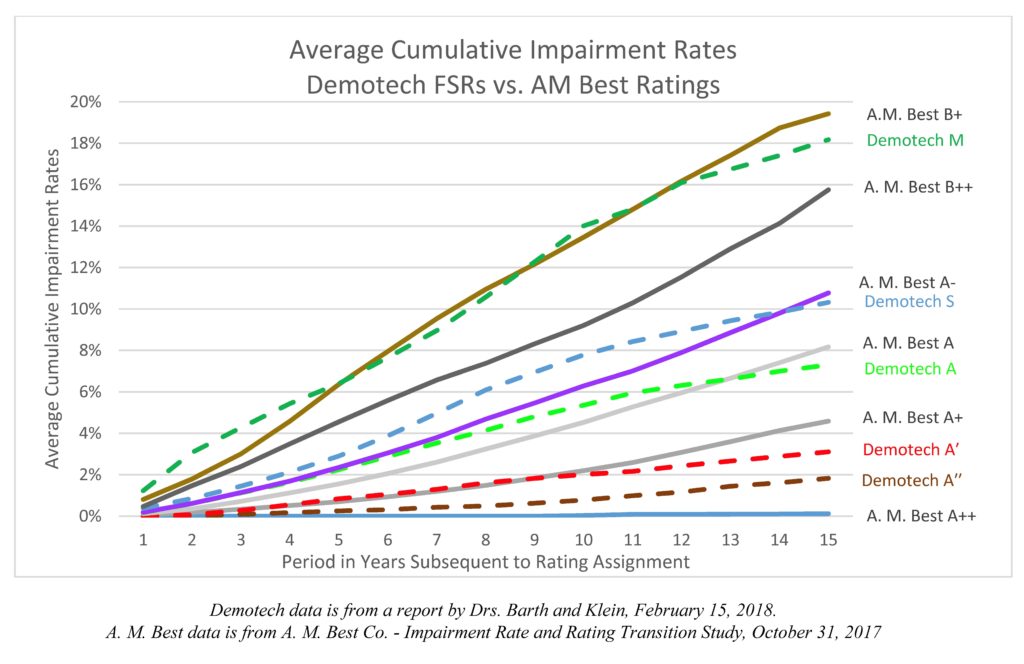 Our Plans
We focus on single premium deferred and immediate fixed annuities.
In a single premium deferred annuity (SPDA) you make single premium payment and after that, we guarantee you a fixed annual interest rate for a certain number of years (3, 5, 7, or 10 years). Your investment will earn this interest rate regardless of changes in the market or the economy.
In a single premium immediate annuity (SPIA) you make single premium payment and after that, start receiving periodic distributions over a certain period (between 3-30 years). The periodic distribution amount is set when the policy is issued and never changes.
Easy to Buy
Our annuity plans are available for purchase directly on our website. The online application process is easy and has 4 simple steps.
Once the application is submitted you will receive a copy of the application to your email and we will start processing it. If you change your mind after completing the online application, you always have 30 days to cancel your application and receive a full refund of your premium.
If you have any questions you can always call us at (855) 966-1111.